5W UV Laser Marking Machine For Metal Plastic Glass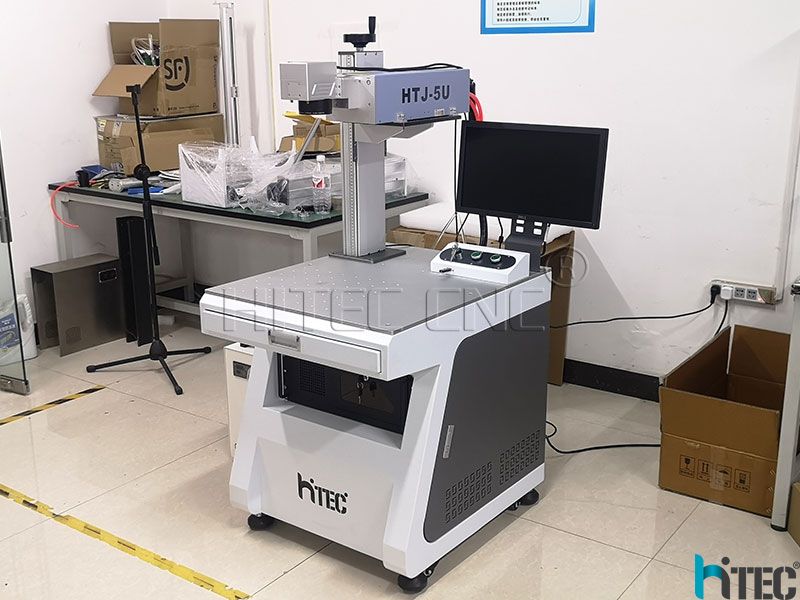 UV Laser marking machine system main advantages
1. Because the focusing spot of UV laser is very small, and the heat-affected area of processing is small too, so it can do the ultra fine marking and special material marking, and it is for the customers who have higher request on the marking effect.

2. Flexible and convenient operating system: the humanized operation process, equipment operation stability is very good; Special control software can be compatible with AutoCAD, CorelDRAW, Photoshop and other software output; Can realize the text symbols, graphics, images, bar codes, 2D code, serial number and other automatic choreography and modification; Support the PLT, PCX, DXF, BMP, JPG, and other file formats, can directly use TTF word stock.
Application of UV laser marking machine
Currently the most widely used mainly in the automotive and motorcycle parts, metals, alloys and
oxides, ABS, epoxy resin, communication products, plastic buttons, integrated circuits (IC), electronic
components, hardware and tools, sanitary ware, costume jewelry , aerospace and other industries,
most of them on the use of laser marking machine related products such as direct labeling related
characters, graphics, numbers and letters, business name and trademarks, product specifications,
frequency, serial number, security code, so as to replace the mechanical, printing type, chemical etching,
ink jet printing and other traditional type of marking.

3-Axis Control,More accurately realized on the surface of the workpiece laser marking,
no defocus phenomenon when machining, even complex surfaces can respond freely. Controlled by the
three-dimensional dynamic laser marking self-developed hardware, software, configuration-specific three-dimensional galvanometer, perfect control of the laser beam in an arbitrary three-dimensional surface labeling.
Parameters
| | |
| --- | --- |
| Laser Power | HTJ-5W |
| Operating language | English, French, Spanish, German, Chinese, Russian, Arabic, etc. and corresponding input methods |
| Management rights | multi-user rights management |
| Optoelectronic type : | support 15N for NPN or PNP signal input |
| Operating system : | Embedded Linux system kernel, anti-virus |
| Coding mode : | static coding, analog speed coding, encoder speed coding |
| Reserved signal : | print start, print status, print completion, fault alarm |
| Coded fonts : | support SHX and TTF fonts and CSF fonts independently developed by our company |
| Variable type code : | serial code, time code, TXT file import, scan gun read code |
| Multi-port coding : | support 4 external trigger signals, each signal can spray different files separately |
| QR code types : | QR codes, DA codes, and dozens of types of barcodes or QR codes |
| Code area and focal length (mm) | Lenses 110 x 110/fd160, 150 x 150/fd210, 175 x 175/fd254, 200 x 200/fd290, 220 x 220/fd330 Laser Galvanometer standard positioning red light focusing function |
| Operation | WYSIWYG 8 inch color touch screen, QWERTY or AZERTY virtual keyboard, navigation through icons and online help files 500 information storage capacity Quick plug laser head and power control box and accessories (photo eye, synchronizer, data line, etc.) |
| Marking line width: | 0.09mm |
| Minimum character: | 0.15mm |
| Marking speed: | 1 2000mm/s |
| Marking depth: | 0.01-2mm |
| Repeatability: | ±0.002m |
| Making material: | All metals and most non-metals |
| Marking content: | text graphics, automatic date, shift, serial number.. |
| Beam quality: | <2(M2) |
| Cooling system: | Built-in air cooling |
| Laser type: | pulsed or continuous |
| Scanning mode: | high precision optical scanning galvanometer |
| Number of lines: | limited only by character height and printable area |
| Laser safety level: | 1P54 safety index: level IV |
| Mark spraying range: | Standard 110mm, optional 150/175/200/300/400/600 |
| Service environment | -20 °C-45 °C, relative humidity 80%; |
| and power supply | 220V 50Hz AC, power consumption of the whole machine: 500W |
| Flight support size: | 524 x550x1455mm; Overall dimension of case: 450 x200x310 mm; Optical head: 510 x100x130mm |
Samples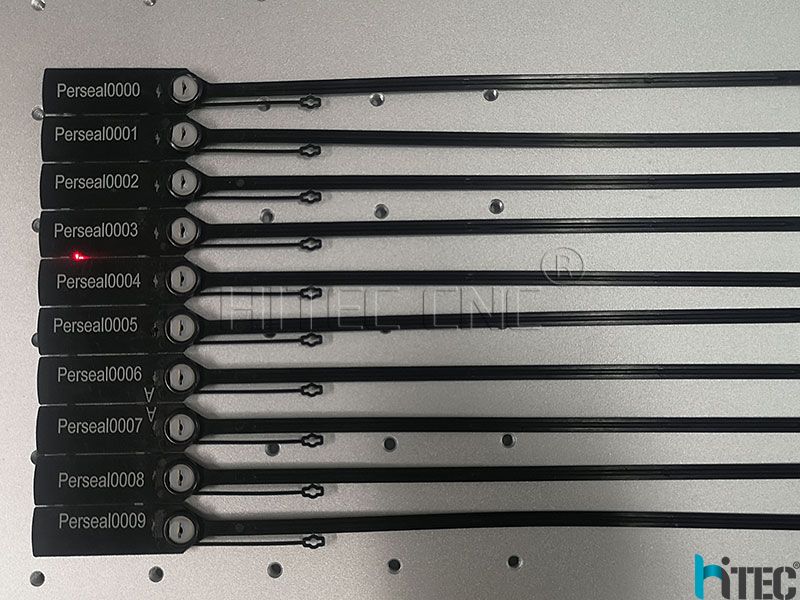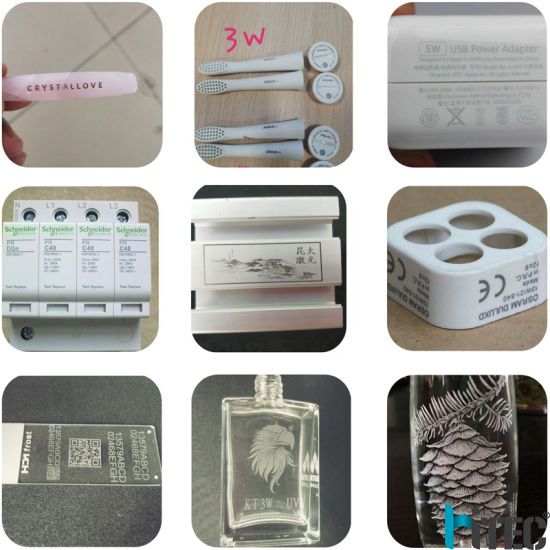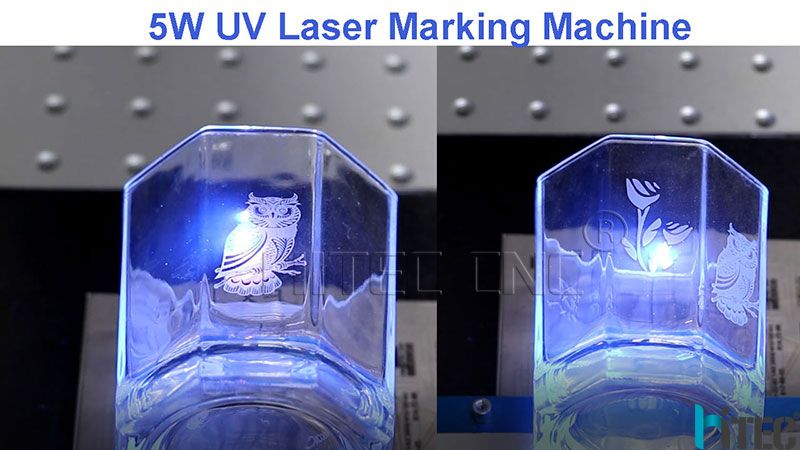 Tag: UV laser marking machine laser marking machine 5W UV laser marking machine laser marking machine for metal laser marking machine for glass laser marking machine for plastic