3D Deep metal laser engraving machine with EZCAD3 software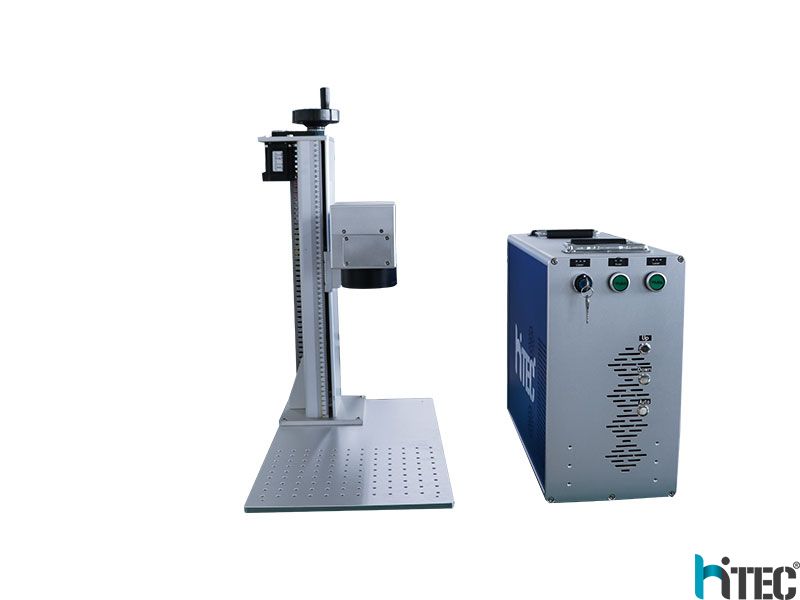 EZCAD3 works with DLC2 series laser controller, with the ability to control most types of lasers (Fiber, CO2, UV, Green, YAG, Picosecond, Femtosecond...) in the market, with brands like IPG, Coherent, Rofin, Raycus, Max Photonics, JPT, Reci, and Dawei...
As for laser galvo control, till Jan 2020, it is compatible with 2D and 3D laser galvo with XY2-100 and SL2-100 protocol, from 16 bits to 20 bits, both analogical and digital.
EZCAD3 inherits all the functions and features of EZCAD2 software and equipped with the most advanced software and laser control technologies. Now it is widely verified and adapted by global laser system manufacturers on their laser machines, which is with laser galvo.

Can we marking 3d relief design use EZCAD3?
Choose DLC controller and EZCA3 +Electri Lift can do the job.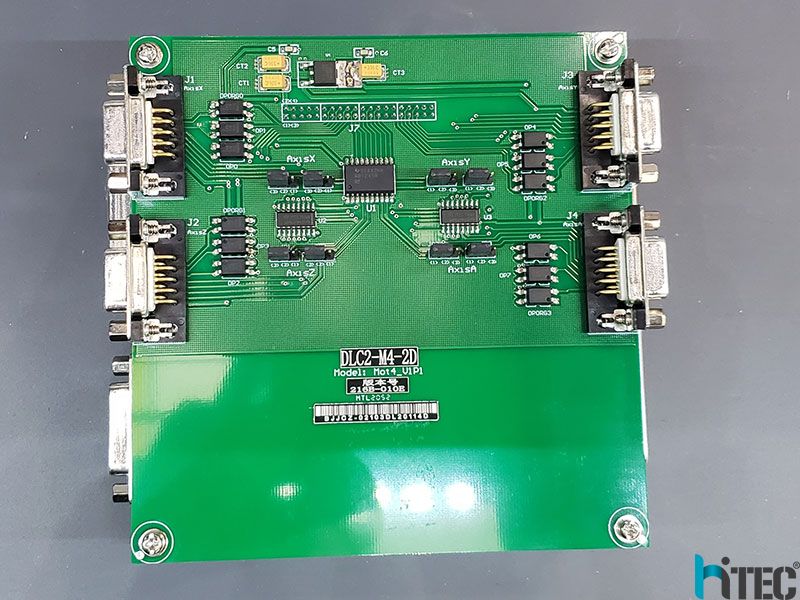 Metal types compatible with a fiber laser machine:
Stainless Steel
Aluminum
Titanium
Brass
Copper
Silver
Gold
Hardened Metals
Iron
Laser Engraver Features
Free maintenance and low operation cost.
Fast Speed: Imported laser scanning system makes the marking speed up to 7000mm/s.
High Precision: Re-position precision is 0.002mm.
High-Rate of Electrical-Optical Conversion: up to 70%.
Easy Operating: Easy operation, English User Manual VCD training video, software sending together with he machine.
The machine can be compatible with software files such as Coreldraw, AutoCAD, Photoshop;PLT, PCX, DXF, BMP, STL etc supported.
New Features Comparing with EZCAD2 software
1. 64 bits Software Kernel
3. Four Axis Control
5. Remote Control Via TCP IP
7. High-Speed MOF
9. Gradual Power Up/Down Control
2. STL Slicing
4. 3D Processing
6. Offline Processing
8. Software SDK/API
10. Gradual Speed Up/Down Control

Parameters
Basic

Software

EZCAD3.0

Software Kernel

64 bits

Operation System

Windows XP/7/10, 64 bits

Controller Structure

FPGA for laser and galvo control, DSP for data processing.

Control

Compatible Controller

DLC2-M4-2D

DLC2-M4-3D

Compatible Laser

Standard: fiber
Interface board for other types of laser
DLC-SPI: SPI laser
DLC-STD: CO2, UV, green laser...
DLC-QCW5V: CW or QCW laser requires 5V control signals.
DLC-QCW24V: CW or QCW laser requires 24V control signals.
Note: Lasers with some brands or models may need special control signals.
A manual is needed to confirm the compatibility.

Compatible Galvo

2 axis galvo

2 axis and 3 axis Galvo

Standard: XY2-100 protocol
Optional: SL2-100 protocol,16 bit,18 bits, and 20 bits galvo both digital and analogical.

Extending Axis

Standard: 4 axis Control (PUL/DIR Signals)

I/O

10 TTL Inputs, 8 TTL/OC Outputs

CAD

Filling

Background filling, annular filling, random angle filling, and cross filling.
maximum 8 mixed fillings with individual parameters.

Font Type

Ture-Type font,Single-Line font,DotMatrix font,SHX font...

1D Barcode

Code11, Code 39, EAN, UPC, PDF417...
New types of 1D Barcode can be added.

2D Barcode

Datamatix, QR Code, Micro QR Code, AZTEC CODE, GM CODE...
New types of 2D Barcode can be added.

Vector File

PLT,DXF,AI,DST,SVG,GBR,NC,DST,JPC,BOT...

Bitmap File

BMP,JPG,JPEG,GIF,TGA,PNG,TIF,TIFF...

3D File

STL, DXF...

Dynamic Content

Fixed text, date, time, keyboard Input, jump text, listed text, dynamic file
data can be sent via Excel, Text file, serial port, and Ethernet port.

Other Functions

Galvo Calibration

Internal calibration,
3X3 point Calibration and Z-axis calibration.

Red Light Preview

√

Password Control

√

Multi-File Processing

√

Multi-Layer Processing

√

STL Slicing

√

Camera Viewing

Optional

Remote Control Via TCP IP

√

Parameter Assistant

√

Stand Alone Function

√

Gradual Power UP/Down

Optional

Gradual Speed UP/Down

Optional

Industrial 4.0 Laser Cloud

Optional

Software Library SDK

Optional

PSO Function

Optional

Typical
Applications

2D Laser Marking

√

Marking on The Fly

√

2.5D Deep Engraving

√

3D Laser Marking

√

√

Rotary Laser Marking

√

Split Laser Marking

√

Laser Welding with Galvo

√

Laser Cutting with Galvo

√

Laser Cleaning with Galvo

√

other laser applications with Galvo.

Please consult our sales engineers.
Samples Making By our Germany Customer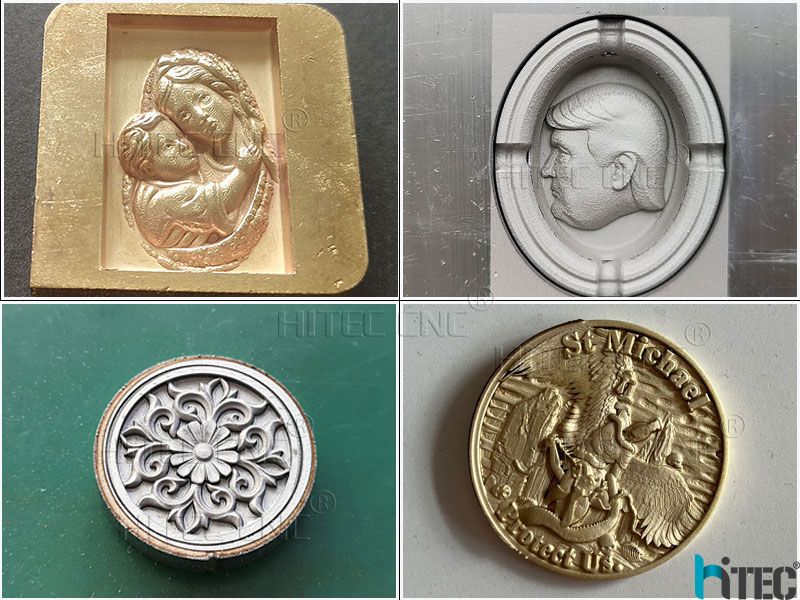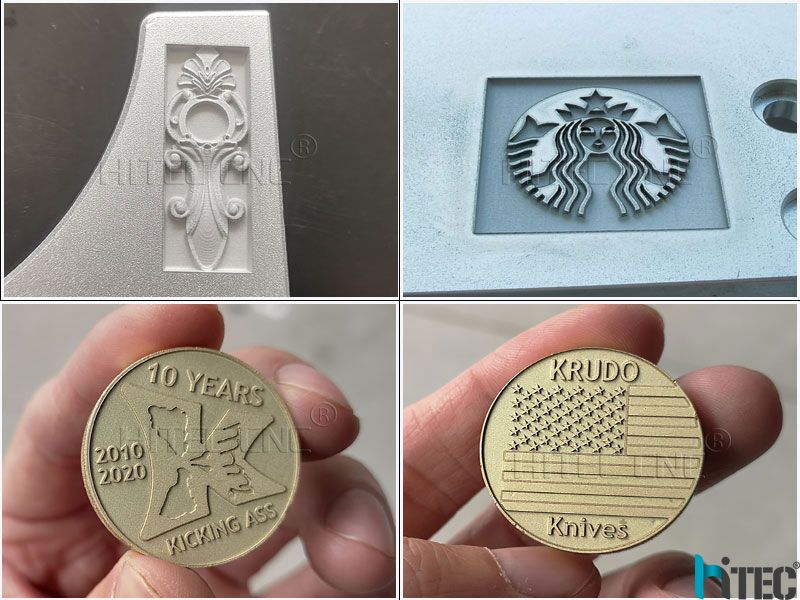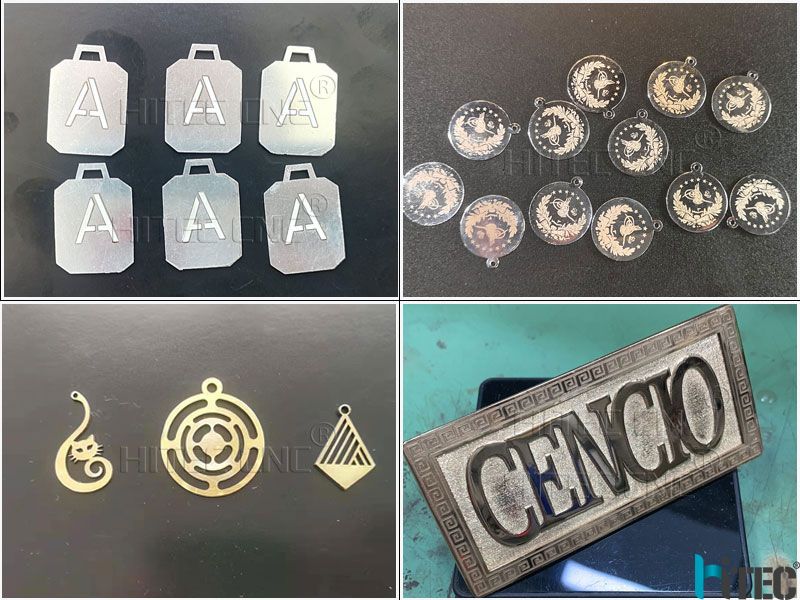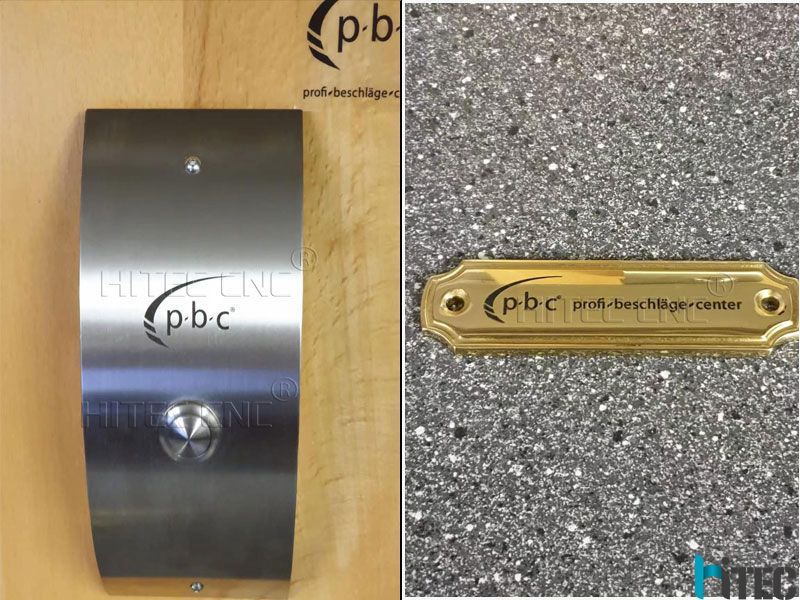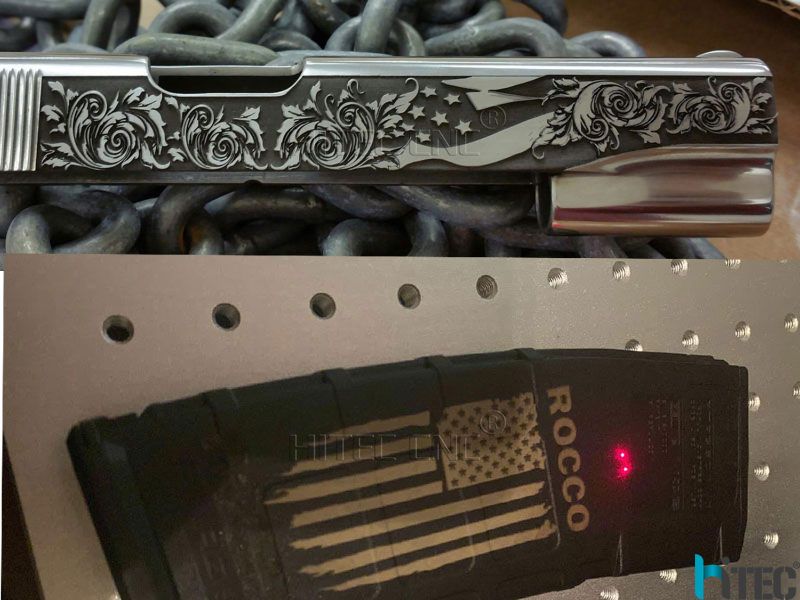 Optional Parts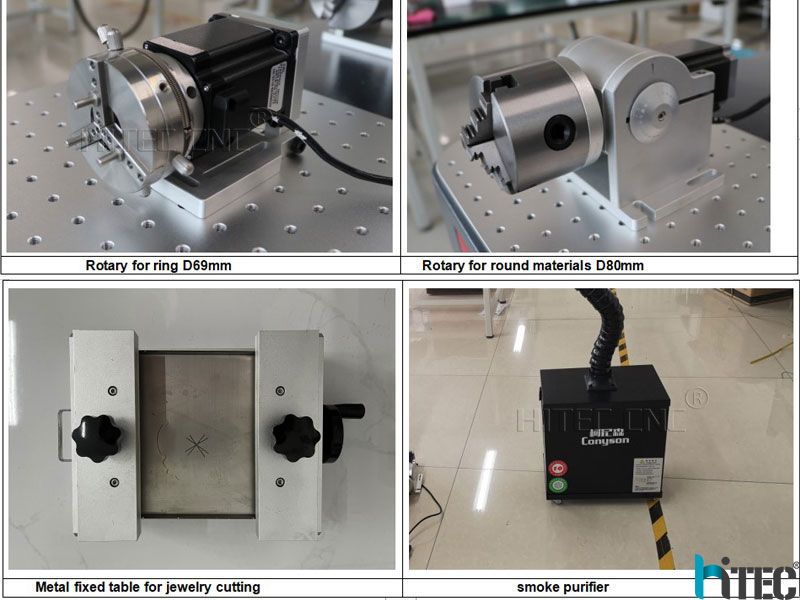 Packing List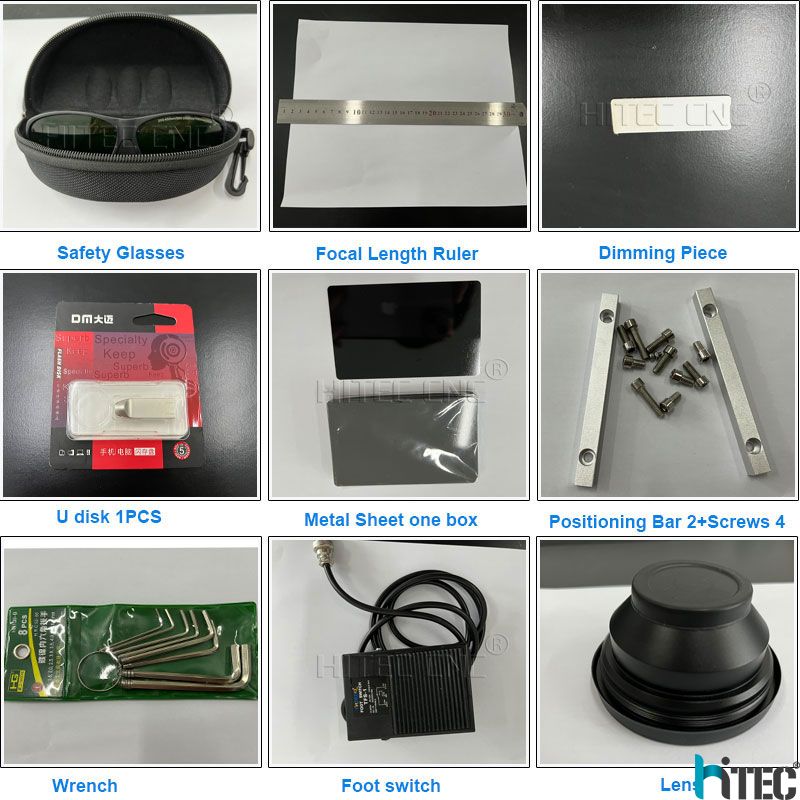 PS: Materials customer concern

ALUMINUM
For aluminum marking and traceability, laser engraving machines and systems can generate a wide range of grays (from white to black) on the surface of aluminum parts.
Etching aluminum
Marking serial numbers on aluminum billets
Engraving QR or data matrix codes on sows, ingots or die-cast parts
Etching logos on aluminum sheets or pieces
Marking anodized aluminum by selectively removing its coating
STEEL
Steel is a hard material that requires longer marking times than other metals. However, the marking speed can be increased by creating white marks instead of black ones. White marks contrast well with the bare steel color for most steel types.
For high-speed marking, laser etching is the best process for steel surfaces. To get the most resistant marks, laser engraving should be used. To increase corrosion resistance, laser annealing creates marks under the surface. You can laser mark any steel alloy, including anodized steel, carbon steel and die steel.
Steel parts: suspension springs, brake pads, coils, billets, plates, pipes, tubes, sheet steel, and more
STAINLESS STEEL
Laser marking is most often used to mark stainless steel grades 304 and 316, but it can be used to mark any grade. The preferred marking method for stainless steel is laser annealing since it protects the chromium oxide layer on the metal surface. As a result, you get high-quality marks and prevent the formation of rust on the surface.
Stainless steel doesn't require a high-power laser. This is because laser annealing works at lower energy levels than other marking processes.
Stainless steel parts: Fuel tanks, exhausts, suspensions, and other automotive parts

ZINC
Zinc is not only used for its corrosion resistance, but also for its ability to be die casted. Laser etching is the only laser marking process that generates a high contrast on zinc parts. It can be used regardless of the zinc alloy.
Zinc part examples: ingot bundles, jumbo blocks, die cast ingots, anode ingots, slabs, die castings, automotive parts, and more

Tag: deep metal laser engraving machine laser engraving machine metal engraving laser engraving machine with ezcad3 ezcad3 software